Beginning his career at the age of 17 working as a Ceiling & Partition Fixer apprentice with his father and uncle, Daniel developed a strong understanding and appreciation of the construction industry and brings a focused and team-driven attitude to how he executes his role. From pricing a wide range of different projects and working in collaboration with his colleagues, he plays an important role in the estimating process and delivers consistently and proficiently every time.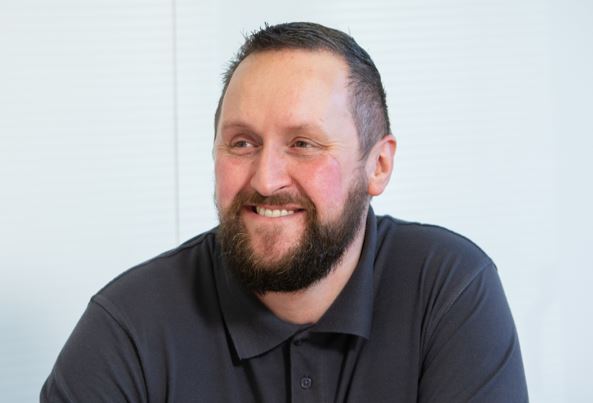 How did you come to work for Linear?
I started working for Linear approximately 18 years ago beginning working onsite as a ceiling and partition installer and progressing through various channels to Foreman, Site Manager and eventually working up to my current role as Estimator for Linear Projects.
Tell us about your role
My current role involves pricing our direct works for new, upcoming and potential projects throughout the Group.
What is the most rewarding part of your role?
The most rewarding part of my role is receiving news that we have secured new contracts alongside the positive feedback we receive as a team from our clients.
What is the proudest moment in your career?
Helping to deliver The Macallan Distillery and Visitor Experience on Speyside must be one of my proudest moments. To be involved in this landmark project and to hand over such special building for an iconic brand recognised around the world, was a truly memorable opportunity.
Who has influenced you most?
My father has influenced me the most throughout my career. I was brought up with a strong work ethic and taught to always work smart not just hard, but that hard work always pays off and sets you apart from others.
What is the most challenging aspect of your role?
This would have to be juggling the volume of work and timescales associated with our tenders. As often there is a vast amount of information to understand, price and return. Fortunately we have a great multi-disciplinary team working together on the submissions and I have found that collaboration is the key to success.
What makes Linear different?
Linear is different as it has a focus-driven, diverse, family atmosphere, where no task however complex, has to be done alone. So, if you need assistance the open-door policy is great, and someone is always available to offer advice or help with the issue at hand.
How have things changed since you joined?
Since I have been involved with the company it's changed in a number of ways. The growth and diversity has been amazing, but we have still maintained our values and our identity. Ultimately it is all down to teamwork and a true commitment by everyone; One team, one vision, one goal.
How would others describe you?
I would like to think that others would describe me as approachable and dependable, as I always make myself available to help out others in any capacity even if it is just helping to move someone's desk or if they want a 5-minute chat about their weekend.
What do you enjoy outside of work?
Outside of work I love spending time with my family and friends having fun with my nieces and nephew who love to keep me on my toes. I also love being outdoors whether it is walking down the glen or snowboarding. I have recently started back mountain biking to try and up my fitness levels.