LDC has begun on a landmark art projects in the North of Scotland. Supported by Tay Cities Region Deal, Hospitalfield in Arbroath sits at the heart of a £5.5million project which sees one of Scotland's most significant arts and crafts country houses transformed for artists and visitors.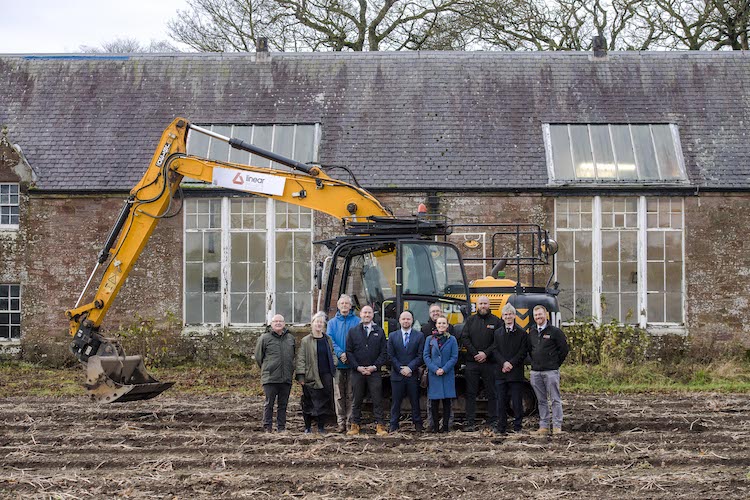 Credit Euan Cherry
The latest stage which includes work to restore historic studios that have hosted an array of celebrated artists over the years, will transform the property as a key destination for artists, for people living and working locally as well as the many visitors to the region. This phase of the five year project, which commenced in late November, focuses on the redevelopment of the historic studios and existing accommodation whilst also providing new accommodation facilities and state of the art digital studio space.
The LDC team will support the conservation and redevelopment of the historic 18th and very early 19th century studios through carefully removing latter refurbishment works from the space, allowing access for essential remediation works to the structure and in doing so ensure its longevity. In a sympathetic and considered fit out, some incredible existing features will be thoroughly refurbished and revitalised which, alongside the introduction of modern high performance materials, will greatly enhance the performance of the existing buildings.
Similarly, the new development will utilise modern and environmentally conscious materials and methods to deliver first class facilities, providing a new chapter in the long and storied history of Hospitalfield.
Sir Mark Jones, Chair of Hospitalfield Trust said: "Hospitalfield has inspired and supported artists for over a century. The next phase will see our studios restored and digital facilities created so that new generations can benefit from the chance to work in this unique and magical place."
Ryan Broadley, Managing Director of LDC Scotland, said, "We're delighted to be playing our part in realising this hugely significant arts project, described by many as Angus' V&A. Our expertise and understanding of the specific needs of multifaceted restoration programmes means we will have the opportunity to showcase our experience through this refurbishment. With due consideration and attention to detail, the team will take great pride in delivering an enhanced and sustainable future for this unique facility."
The work is a continuation of the transformation at Hospitalfield which began in May 2021 with the opening of the walled garden, designed by Nigel Dunnett and the restoration of the 19th century fernery and greenhouse café, designed by Caruso St John. Once complete, the project will create world class facilities for artists from all backgrounds and from across the world, to use Hospitalfield as a place to create new work.